Market Update
As I have shared in my previous articles, with the most recent on market being on SAVERs – How to maximize your interest and my Market Transaction/Updates and SBAPR23 GX23040S – Singapore Saving Bonds (SSB) above 3% again. Buy or Bye?, the market is very volatile now, my action now is trading but will keep those shares that I have accumulate cheap for longer terms.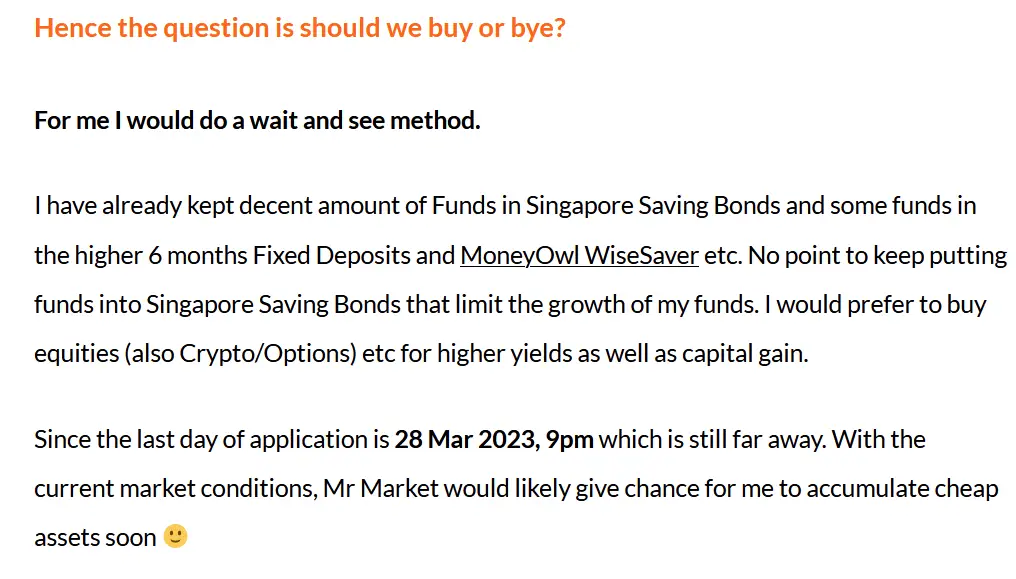 Trade or Wait?
I would generally preferred at least a 6% yield before I will buy anything. If not, it would be better for me to keep money in high saving account at 4%. Why take the risk? The latest treasury yield is 3.98% now but I didn't applied for it because Standard Chartered has given me 4% from March to Aug 🙂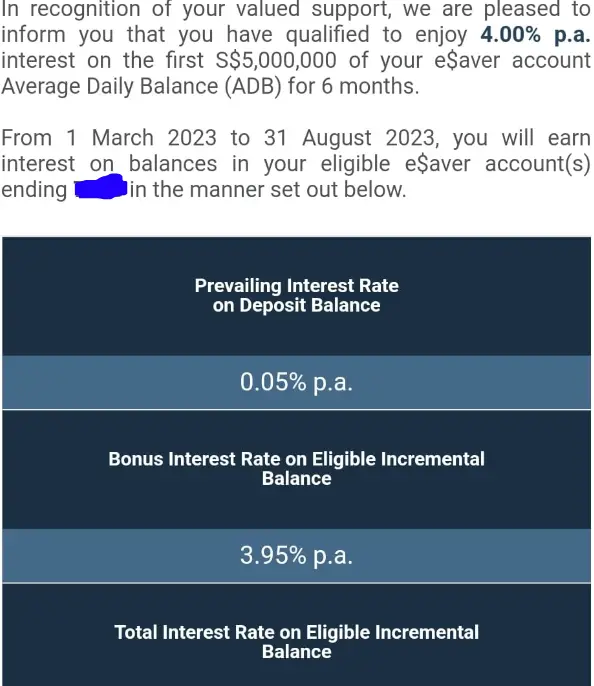 My Trade
Recently I have bought CapitaLand India Trust at $1.09 in the early part of the week and sold at $1.12 yesterday. The purpose is for quick trade and to ease itchy fingers. Next month should be getting more interesting!
For those who are unaware what this share is about, you can read more about it here. I have extracted from the company's website itself below.
Current yield is 7% with 0.96 book value. On the longer term basis, I am positive about this counter. Hence it's worth a trade, even if stuck it's still ok. If it come down again in March, I will buy again. Depend on how low the price get, I may keep for longer term 🙂
CapitaLand India Trust (CLINT), formerly known as Ascendas India Trust (a-iTrust), was listed on the Singapore Exchange Securities Trading Limited (SGX-ST) in August 2007 as the first Indian property trust in Asia. Its principal objective is to own income-producing real estate used primarily as business space in India. CLINT may also develop and acquire land or uncompleted developments primarily to be used as business space, with the objective of holding the properties upon completion. As at 31 December 2022, CLINT's assets under management stand at S$2.5 billion.
CLINT's portfolio includes eight world-class IT business parks, one logistics park, one industrial facility and three data centre developments in India, with total completed floor area of 15.5 million square feet spread across Bangalore, Chennai, Hyderabad, Pune and Mumbai. CLINT is focused on capitalising on the fast-growing IT industry and logistics/industrial asset classes in India, as well as proactively diversifying into other new economy asset class such as data centres. CLINT is structured as a business trust, offering stable income distributions similar to a real estate investment trust. CLINT focuses on enhancing shareholder value by actively managing existing properties, developing vacant land in its portfolio, and acquiring new properties.
Live a Life
Lastly, let me end of with this.
Everyday passes by so quickly.
Before you knew it Baby becomes child.
Parent died I become old.
Seize your time.
Do what you love.
Buy assets GENERATE CASHFLOW.
And a poem from CHATGPT!
A good life is not one of riches and fame, Nor is it found in fleeting pleasures and vain games. It's the simple things that bring us joy and ease, Like a peaceful mind and a heart at ease.
A good life is one of love and compassion, Of meaningful connections and heartfelt satisfaction. It's the giving of oneself to others in need, And finding beauty in every simple deed.
It's waking up each day with a grateful heart, And finding ways to make a positive start. It's the laughter and the tears we share, And the moments that we hold so dear.
A good life is one of purpose and of grace, Of finding meaning in each challenge we face. It's the journey we take, not just the destination, And the lessons we learn, with each revelation.
So let us live each day with love and light, And cherish each moment, with all our might. For a good life is one of joy and peace, And it's found within, when our hearts are at ease.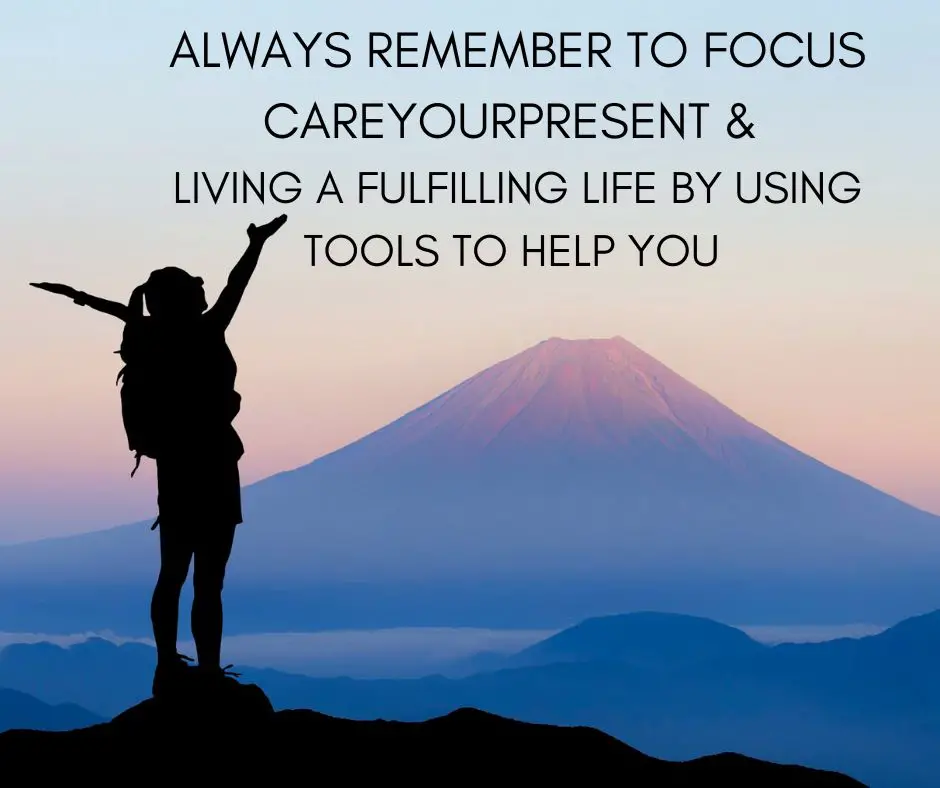 Thanks for reading my article. I truly appreciate that you have visited my site!
If you have any comments about this article or have any other topics that you want me to cover in my site, please feel free to leave a comment at the end. Thanks!
For those who are interested in my articles, please join the others to sign up for my free newsletter to has my newest blogposts sent to your mailbox for free!
For real time exclusive updates on market news/life (especially Crypto markets where the news move fast, important news will be shared directly via tweets or telegrams), do also join the platforms below and engage with other like-minded people!
You may also contact me via [email protected].
If you're looking referral codes, do check out my referral and ebook page. Give it a try and who knows? You might end up loving these platforms! To be absolutely fair to all the readers, I am definitely using all these companies and they are useful to me! Likely will be useful to you too!
At the same referral and ebook page, you can also download my free ebooks and other free resources:
For quick references to these resources, you can see below.
Ebooks and other useful resources on enhancing productivity (Investment, Excel, Notion etc). Currently most of it are free at this moment (subject to change).
MoneyOwl: You can use this 6SHU-93MC to get free grab vouchers and highly safe liquid cash fund account.
Trust Bank – a new digital bank. A unique partnership backed by Standard Chartered Bank and FairPrice Group. You can get free bank account with no minimal balance and credit card with no annual fee ever. KNDBPEPT.
FSMOne: P0413007. Good account to keep liquid cash in autosweep and to purchase investment at low fee.
Hostinger: You can use this link for hosting your new website.
Crypto.com: Use my referral link https://crypto.com/app/h92xdfarkq to sign up for Crypto.com and we both get $25 USD 🙂