Monthly Dividends
Everybody loves dividends! Love monthly Income! It's like your monthly paycheck. Is there such thing as consistent monthly dividend income from an ETF with global exposure? Yes, there is! Look no further than SDIV – SuperDividend® ETF! It has been giving monthly dividend income for 11 years since its inception in 2011! It is also vested in at least 100 global dividend stocks that provide great diversification!
In short, SDIV is an exchange-traded fund (ETF) that offers an attractive solution for income-focused investors. With its impressive tantalizing 11% annual yield and monthly distributions, this ETF provides greater convenience and flexibility for budgeting and managing expenses. For retirees or income-oriented investors relying on regular cash flows.
Is your saliva dripping and can't wait to find out more and invest in this wonderful ETF?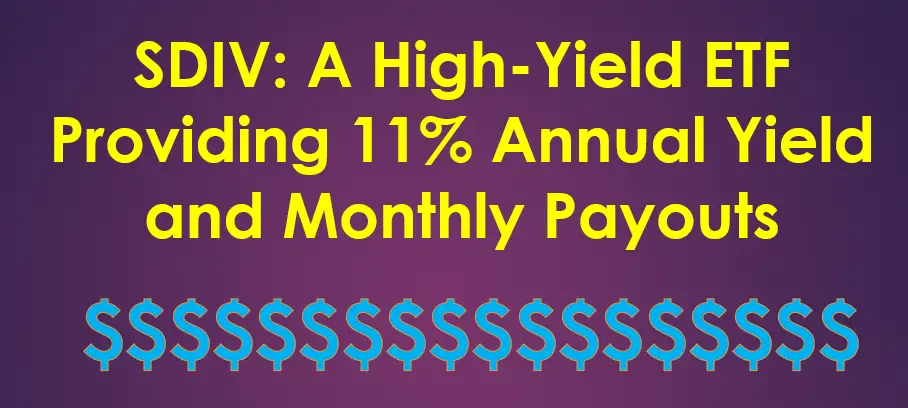 (The details about SDIV below are written with reference from https://www.globalxetfs.com/funds/sdiv/).
What is SDIV?
SDIV is an exchange-traded fund (ETF) that aims to track the performance of the Solactive Global SuperDividend Index. The index is composed of 100 of the highest dividend-yielding equity securities in the world, including emerging market countries. SDIV is a passively managed fund, which means that it does not attempt to beat the market. Instead, it aims to track the performance of the index as closely as possible. SDIV's approach of investing in a diverse range of companies across various sectors aims to provide investors with both capital appreciation and consistent income.
Key Features
In Summary, there are 3 key advantages about SDIV
SDIV accesses 100 of the highest dividend paying equities around the world, potentially increasing a portfolio's yield.
SDIV has made monthly distributions 11 years running.
Investing in equities from around the globe can help diversify both geographic and interest rate exposure.

Other key information about this ETF:
Here are some additional details about SDIV (As of 18 May 2023):
Inception date: July 27, 2011
Number of Holdings: 107
Net assets: $729.45 million
Gross expense ratio: 0.61%
Net asset value: $21.81
30-Day SEC Yield: 10.99%
Distribution frequency: Monthly
Index: Solactive Global SuperDividend Index
Domicile: United States
Currency: U.S. dollars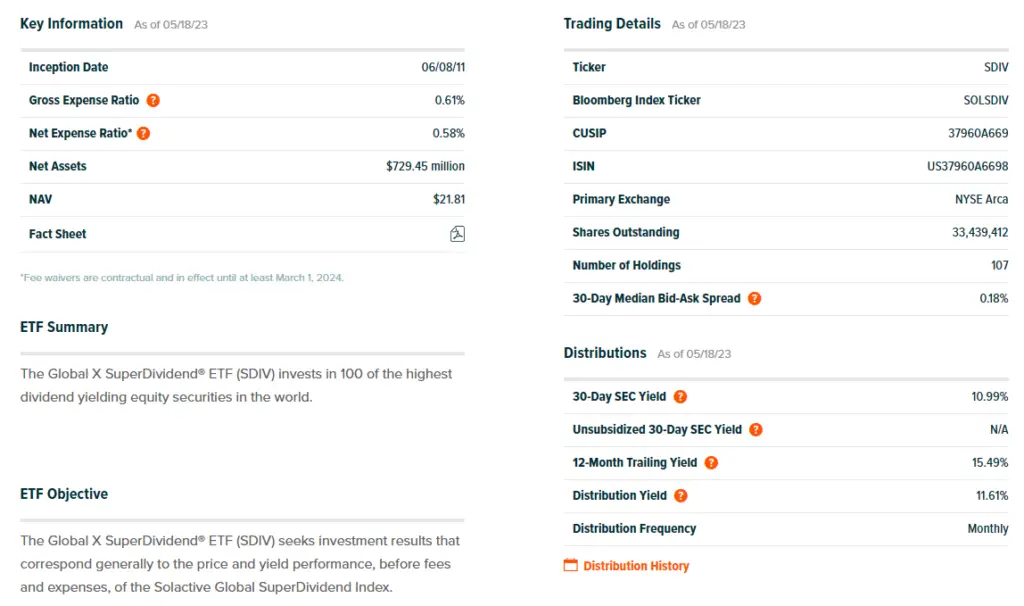 Impressive Features isn't it?
If you read the above features, what do you get? Very impressive, correct?
With an inception date of July 27, 2011, SDIV has a proven track record of delivering reliable results. Boasting a robust portfolio of 107 holdings, this ETF offers a diversified approach to investing, ensuring that investors can benefit from a wide range of income-generating assets.
One of the standout features of SDIV is its impressive 30-Day SEC Yield of 10.99%. This signifies the attractive income potential it offers to investors. With a distribution frequency of monthly, investors can enjoy consistent cash flow, making it an ideal investment for those seeking regular income streams. Furthermore, SDIV's net assets of $729.45 million demonstrate the trust and confidence placed in this fund by investors.
SDIV tracks the Solactive Global SuperDividend Index, which further enhances its appeal. This index includes high-dividend yielding companies from around the world, allowing investors to tap into global opportunities. The ETF's domicile in the United States and use of U.S. dollars as the currency provide stability and familiarity for investors. With a gross expense ratio of 0.61%, SDIV ensures that investors can keep more of their returns, making it a cost-effective choice. Overall, SDIV stands as an impressive investment vehicle that combines attractive yields, diversification, and stability, making it an appealing choice for income-focused investors seeking long-term value.
Top 10 Holdings
With its portfolio of 107 holdings, this ETF offers a well-rounded mix of investments across various sectors and geographies. This diversification is essential for managing risk and reducing exposure to any single company or industry.
By spreading investments across multiple sectors, SDIV minimizes the impact of sector-specific risks and allows investors to benefit from the potential growth and stability of different industries. This diversification across sectors also helps to capture a broader range of investment opportunities and aligns with the goal of creating a resilient and balanced portfolio.
Moreover, SDIV's geographic diversification adds another layer of risk mitigation. By investing in high dividend yielding companies from around the world, the ETF reduces the reliance on any specific country or region. This global exposure provides investors with access to different markets, economies, and currencies, potentially enhancing returns and reducing volatility.
Observe the 3 screenshots from the SDIV site below, what do you get? SUPER Diversified ETF!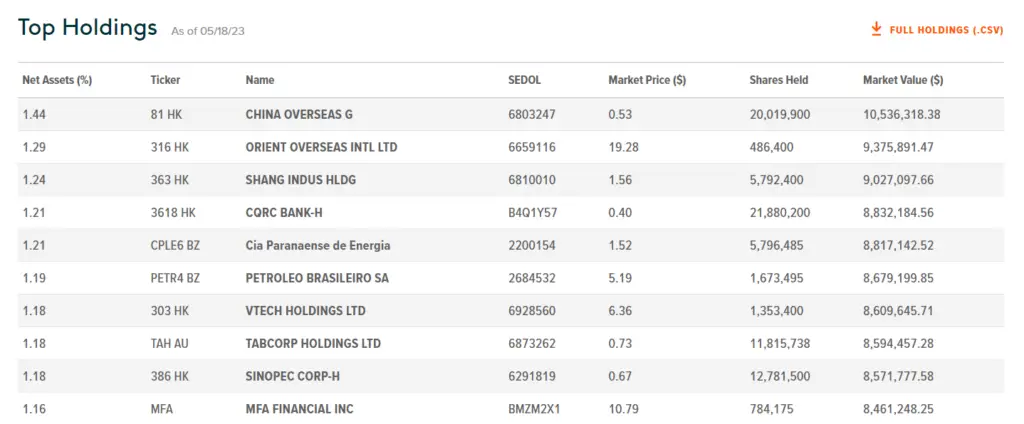 MUST BUY SDIV
With all the above features, its remarkable 11% annual yield and monthly distributions, SDIV delivers a financial experience like no other. This high-yield ETF ensures you don't have to settle for meager returns or wait for quarterly payouts. Its diversified portfolio spreads risk across top dividend-paying companies from around the world, providing stability even in turbulent markets.
Hence, SDIV sounds like it is a must buy that can help you to say goodbye to financial worries and hello to a monthly paycheck that empowers you to live life on your terms.
Amazing ETF counter isn't it? Did you regret not buying earlier to unlock Lucrative Returns with SDIV: A High-Yield ETF Providing 11% Annual Yield and Monthly Payouts?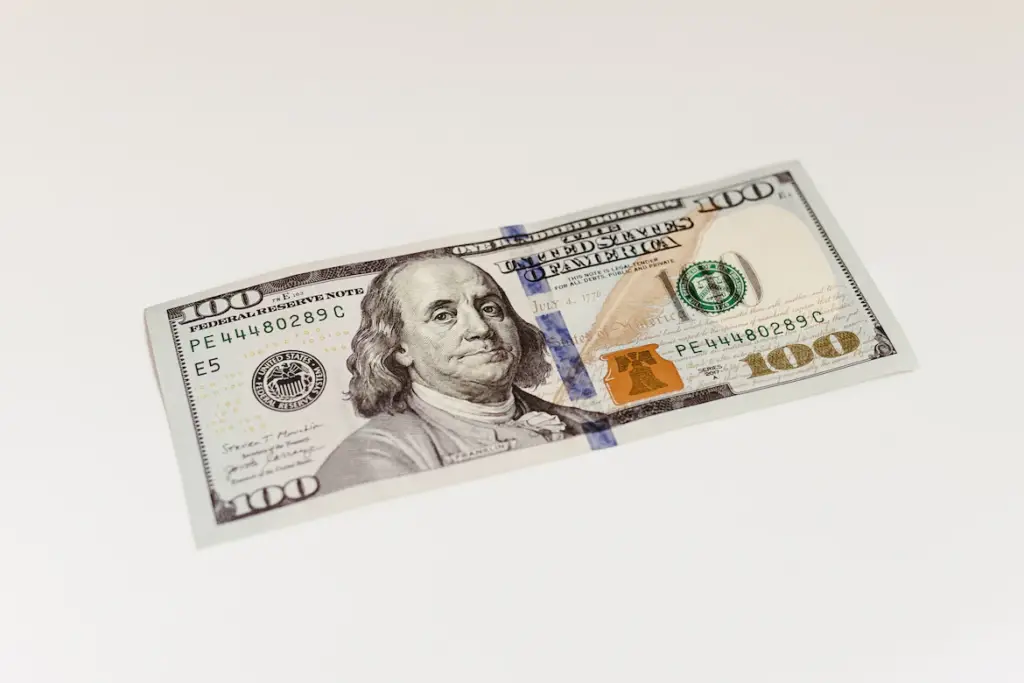 But is this really the case?
No! Don't be blinded by High yield with monthly distribution!
No! Don't be blinded by High yield with monthly distribution!
You should exercise caution when considering high yield investments that offer monthly distributions. While the allure of regular income can be tempting, it is crucial not to be blinded by the promise of high returns.
The return of this ETF is very poor since inception date. You are definitely much better investing in other things. Look at the 3 charts below, you actually making losses if you invest in this ETF since its inception date in 2011.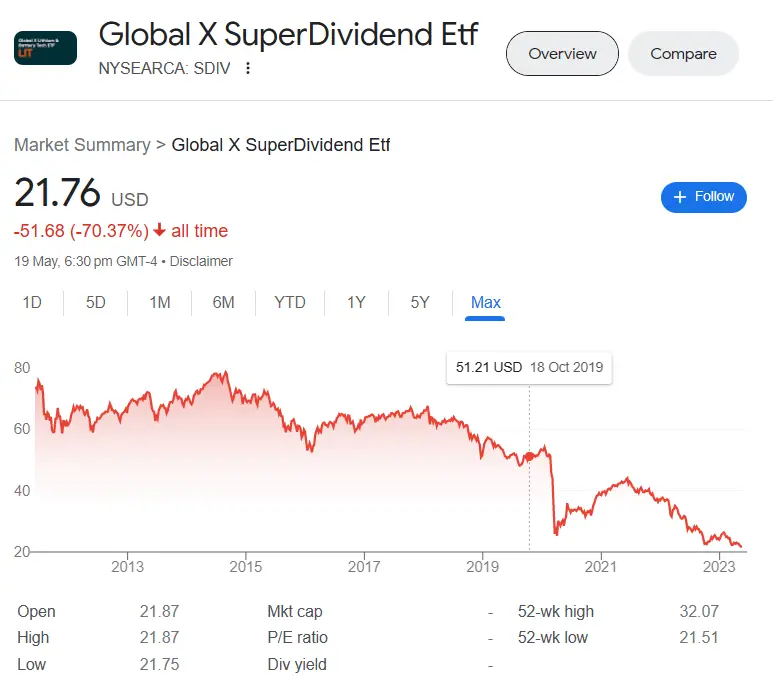 There is no point to buy anything that gives you high yield but huge capital loss in comparison with the dividends that you get back. Please be careful next time if you see high yielding shares/ETF. Always do your due diligence first!
Good articles that you should read!
People are drawn to dividend investing.
Why? Firstly, dividends provide a regular stream of income, allowing investors to receive a portion of the company's profits on a periodic basis. This can be particularly attractive for individuals seeking consistent cash flow or looking to supplement their existing income. Additionally, dividend investing is often viewed as a more stable and predictable investment strategy compared to relying solely on capital appreciation.
I always write and share articles, especially on dividends which many people love them. Do read them!
Alternatively, you can go the right side of my page, there is a search bar where you can simply search "dividend" to see all my articles related to dividends!
Of course, you can search for other things that would interest you such as "Careyourpresent", "Reits", "Side Hustles", "Fixed Incomes", "Savings" etc.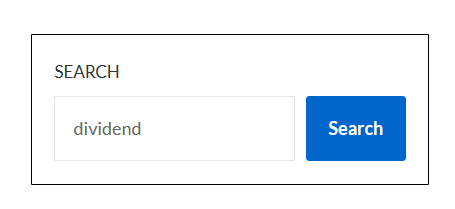 CAREYOURPRESENT
Money just buy you the chance of freedom.
When you are young and working, you exchange time for money. When you are old, you can have lots of money but you can't buy time back, especially the things that you have missed while busying striking out in career. Of course, if you love your career, and consciously know that you are missing out the first time your child walk or talk, that's ok, but if you are the other spectrum, please do something about it.
Your kids grew up and they no longer need you to accompany them. They no longer want to sit on your lap to share/do things with you…all these time you spent in your 9 to 6 or even longer cubicles…can the money that you have earned by you back these?
We always thought we have more time with our old parents, but we are wrong. Time with them is ticking away every day. One day it will suddenly be gone. There is no regret medicine, no reset in time. Gone is gone and cannot come back. No matter you are billionaires or millionaires, you cannot reset this.
We always thought that we have more time with our spouse every day, but we are wrong. One day they will be gone too. When you read this, please go tell your spouse that you love him/her and he or she is the best thing that you ever had in your life.
I have picked out some of the more life reflecting articles of the CAREYOURPRESENT series. Do read them:
You can read more about my articles on Careyourpresent via the Category "Careyourpresent" or simply click "Careyourpresent" via the main menu bar.
REMEMBER:
Love your life daily.
You have one less day with your spouse, parents, children and yourself.
Time is ticking away.
For each passing day,
Enjoy and Treasure your Life!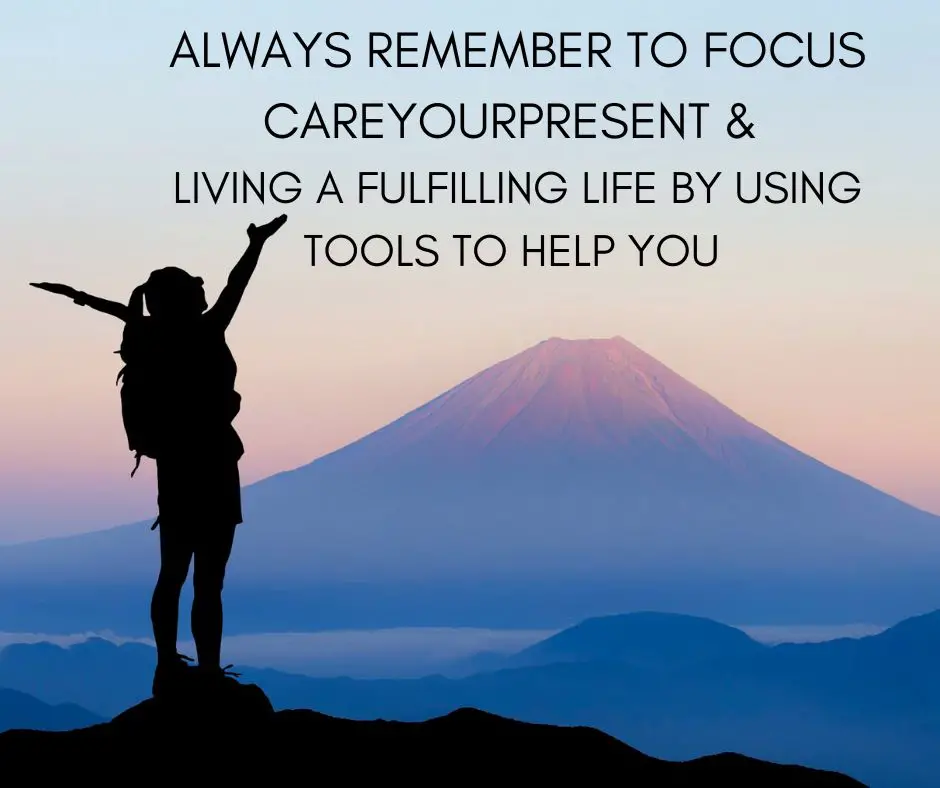 For those who are interested in regular updates of my articles, please join the others to sign up for my free newsletter to has my newest blogposts sent to your mailbox for free!
For real time exclusive updates on market news/life (especially Crypto markets where the news move fast, important news will be shared directly via tweets or telegrams), do also join the platforms below and engage with other like-minded people!
You may also contact me via [email protected].
If you're looking referral codes, do check out my referral and ebook page. Give it a try and who knows? You might end up loving these platforms! To be absolutely fair to all the readers, I am definitely using all these companies and they are useful to me! Likely will be useful to you too!
At the same referral and ebook page, you can also download my free ebooks and other free resources.
For quick references to these resources, you can see below.
Ebooks and other useful resources on enhancing productivity (Investment, Excel, Notion etc). Currently most of it are free at this moment (subject to change).
WeBull: A powerful brokerage with nice free welcome gift. You can refer to my guide here on how to signup! 4 Simple step only! Click here to register a new account!
MoneyOwl: You can use this 6SHU-93MC to get free grab vouchers and highly safe liquid cash fund account.
Trust Bank – You will enjoy free FairPrice E-Voucher referral if you sign up via my referral code KNDBPEPT. Simply download the Trust Bank SG App on the App Store or Google Play Store. Tap on "Use referral code" immediately after you start the app and key in: KNDBPEPT
FSMOne: P0413007. Good account to keep liquid cash in autosweep and to purchase investment at low fee.
Hostinger: You can use this link for hosting your new website. 20% off hosting!
Crypto.com: Use my referral link https://crypto.com/app/h92xdfarkq to sign up for Crypto.com and we both get $25 USD 🙂