Current Cryptocurrency Market
If we look around, Crypto is in a bear market now. Many Defi Site got rugpull, hacked, exchanges collapses (even the recent deemed as big and safe FTX also failed). Currently there are also FUDs about Binance, the biggest exchange in Crypto.
For those not in Crypto, FUD stands for "fear, uncertainty, and doubt". Who know if Binance will really collapse. Personally I think it is quite unlikely but who knows? Hence, the holy grail of Cryptocurrency is always true.
Not your wallet, not your coins.
Everyone should owned hardware wallets and keep your own coins. However, I understand that this is difficult as not everyone know how to do it. Hence, a lot of people just put their faith (their hard earned money) in exchange instead of self-custody.
What are Crypto Wallets?
Firstly, what are Crypto Wallets?
Cryptocurrency wallets are digital storage devices that store a collection of digital currency. The wallet software maintains the private keys necessary to access and spend the currency. If you have several different cryptocurrencies, it's important to have wallets that supports all of them and allows you to send and receive funds.
Type of Wallets
Different types of cryptocurrency wallets that one may heard of include:
Desktop wallets: Software wallets stored on your computer. Most desktop wallets allow you to control your private keys with a user interface.
Mobile wallets: Mobile apps that connect directly to the blockchain for sending or receiving digital currency. Some mobile wallets require users to authenticate their identity using bio-metrics or other methods.
Hardware wallets: Hardware devices that hold private keys offline and provide secure multi-Sig support for confirming transactions when needed. Hardware wallet options can be purchased online or in physical stores.
Hot Wallets – These are the most common type of wallets. When you open a hot wallet, your funds are immediately available for transfers or withdrawals. Hot wallets are also called personal wallets because they're used by a single person or group of people at any given time. This can be risky because if someone else gets access to your computer or phone and steals your funds, it's gone forever. You need to be very careful when using this type of wallet because no one else should have access to it but you!
Cold Wallets – Cold wallets store your private keys offline in an encrypted format (such as on a USB flash drive) so that only you have control over them. This means that even if someone steals your laptop, they can't get access to your Crypto unless they know where it is located physically (in which case they can just take it). The best way to use this type of wallet is with a hardware device like Trezor or Ledger Nano S or X.
What is self-custody?
Self-custody refers to the act of holding and managing your own cryptocurrency, rather than entrusting it to a third party such as an exchange. This means that you are responsible for the security of your own cryptocurrency and have complete control over it.
There are several ways to self-custody your cryptocurrency, including:
Using a hardware wallet: A hardware wallet is a physical device that stores your cryptocurrency offline. It allows you to securely store your cryptocurrency, and you can use it to make transactions by connecting it to your computer or smartphone.
Using a software wallet: A software wallet is a digital wallet that you can download to your computer or mobile device. It allows you to store, send, and receive cryptocurrency, and you have complete control over your private keys.
Although self-custody can provide greater security and control over your cryptocurrency, but it also requires you to take more responsibility for the security of your assets. If you lose your private keys or your hardware or software wallet is compromised, you may lose access to your cryptocurrency. It's important to carefully consider the risks and benefits before deciding to self-custody your cryptocurrency.
Free guide to self-custody in Cryptocurrency
Hence, for those who want to learn how to self-custody in Cryptocurrency using Metamask with Ledger (one of the most common wallet used). I have put up a guide which you can download.
Please go to my referrals and ebooks page to download (Its at the bottom section under Ebooks).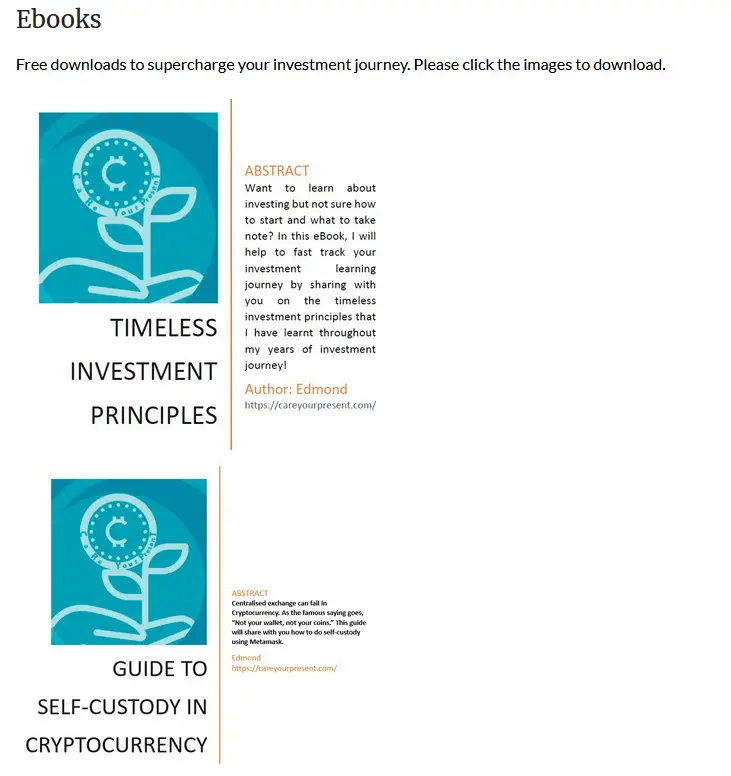 Good articles that you should read!
People are drawn to dividend investing.
Why? Firstly, dividends provide a regular stream of income, allowing investors to receive a portion of the company's profits on a periodic basis. This can be particularly attractive for individuals seeking consistent cash flow or looking to supplement their existing income. Additionally, dividend investing is often viewed as a more stable and predictable investment strategy compared to relying solely on capital appreciation.
I always write and share articles, especially on dividends which many people love them. Do read them!
Alternatively, you can go the right side of my page, there is a search bar where you can simply search "dividend" to see all my articles related to dividends!
Of course, you can search for other things that would interest you such as "Careyourpresent", "Reits", "Side Hustles", "Fixed Incomes", "Savings" etc.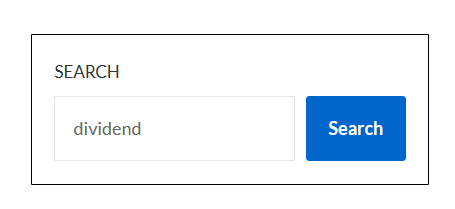 CAREYOURPRESENT
Money just buy you the chance of freedom.
When you are young and working, you exchange time for money. When you are old, you can have lots of money but you can't buy time back, especially the things that you have missed while busying striking out in career. Of course, if you love your career, and consciously know that you are missing out the first time your child walk or talk, that's ok, but if you are the other spectrum, please do something about it.
Your kids grew up and they no longer need you to accompany them. They no longer want to sit on your lap to share/do things with you…all these time you spent in your 9 to 6 or even longer cubicles…can the money that you have earned by you back these?
We always thought we have more time with our old parents, but we are wrong. Time with them is ticking away every day. One day it will suddenly be gone. There is no regret medicine, no reset in time. Gone is gone and cannot come back. No matter you are billionaires or millionaires, you cannot reset this.
We always thought that we have more time with our spouse every day, but we are wrong. One day they will be gone too. When you read this, please go tell your spouse that you love him/her and he or she is the best thing that you ever had in your life.
I have picked out some of the more life reflecting articles of the CAREYOURPRESENT series. Do read them:
You can read more about my articles on Careyourpresent via the Category "Careyourpresent" or simply click "Careyourpresent" via the main menu bar.
REMEMBER:
Love your life daily.
You have one less day with your spouse, parents, children and yourself.
Time is ticking away.
For each passing day,
Enjoy and Treasure your Life!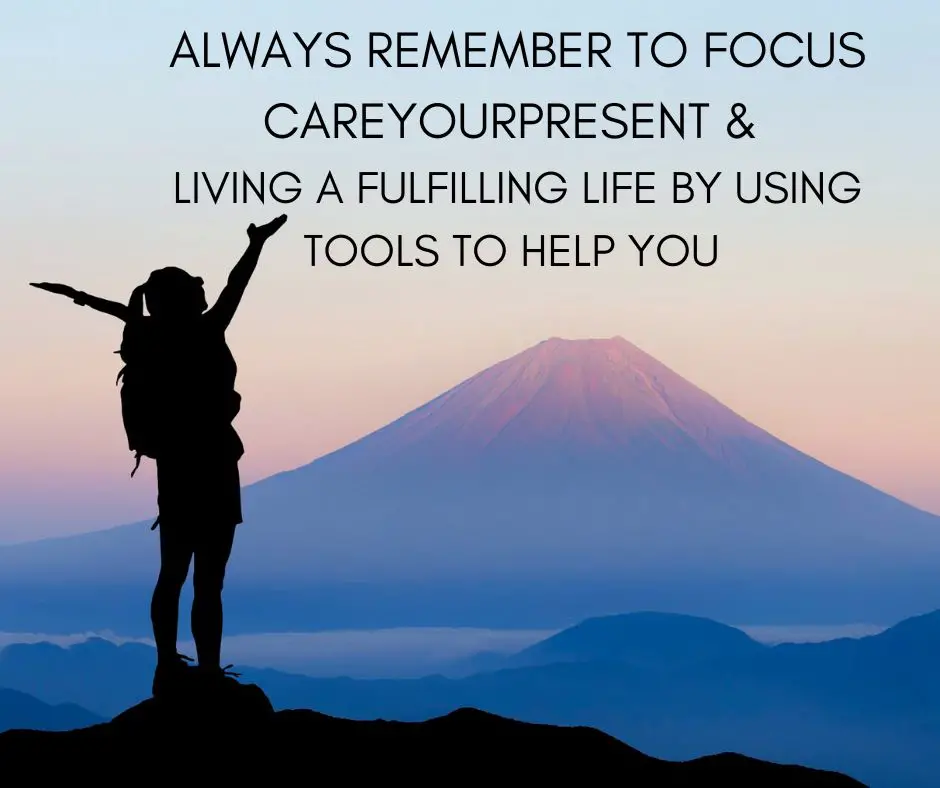 For those who are interested in regular updates of my articles, please join the others to sign up for my free newsletter to has my newest blogposts sent to your mailbox for free!
For real time exclusive updates on market news/life (especially Crypto markets where the news move fast, important news will be shared directly via tweets or telegrams), do also join the platforms below and engage with other like-minded people!
You may also contact me via [email protected].
If you're looking referral codes, do check out my referral and ebook page. Give it a try and who knows? You might end up loving these platforms! To be absolutely fair to all the readers, I am definitely using all these companies and they are useful to me! Likely will be useful to you too!
At the same referral and ebook page, you can also download my free ebooks and other free resources.
For quick references to these resources, you can see below.