In my previous post, I have shared about the latest SSB – SBSEP23 GX23090F (Read: SBSEP23 GX23090F – Important Updates!) and what plans might be. Today is the application deadline, 28 Aug 2023, 9pm. For those who are keen, please remembered to apply by 9pm today.
The interest rates this time is 3.06% on average for 10 years. Finally, above 3% again, good deal for savers.
Next Month SSB
Next Month SSB is likely much higher if we use the famous ilovessb to check. Given the interest rates trend and FED saying that they won't hesitate to raise interest rates higher to curb inflation, next month rate likely will be slightly higher and might go even higher for the subsequent months.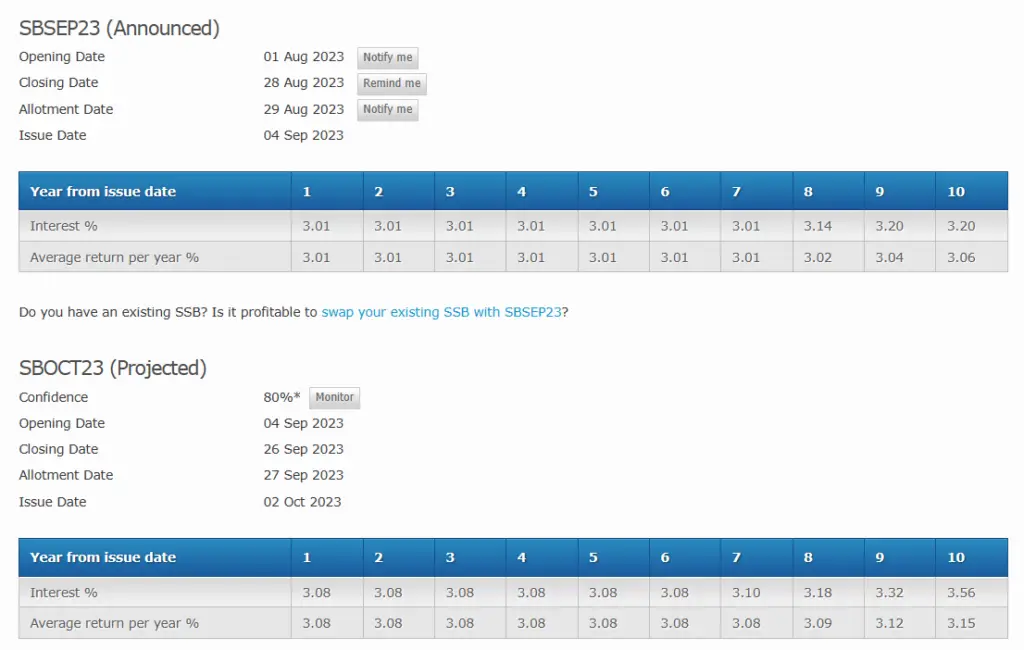 What I have did
Given the above data, very likely next month there is a chance of oversubscribed and people will tend to wait for next month for higher rate.
However, for me, I have decided to subscribe this month SSB and redeem my old SSB issue SBSEP22 GX22090Z (with average yield of 2.8%). This issue has the same coupon pay month as the current issue. As mentioned previously, I have already built and plan to continue to build SSB Bond ladders, hence, this is important to me when I redeem old issues.
I have redeemed 27K worth (13.5k each for me and my spouse) for old SSB issue SBSEP22 GX22090Z and applied for 86k worth (43.5k each for me and my spouse).
Let's see if I will get all?