Introduction
I have been sharing on earning income other than your typical 9 to 5 income. One of the ways that I have shared before is doing online surveys. I shall keep this post short and sweet and share with people how much they could earn with surveys.
With the rise of the gig economy, it's never been easier to earn extra income from the comfort of your own home. One popular option is completing online surveys, which can be a great way to supplement your main source of income. With a little effort, you can start earning money simply by sharing your opinions. I'm going to share my experiences with you, explain what I've seen and how much I have earned so far from using Rakuten Insight Surveys.
I've been using Rakuten Insight Survey for a few months now, and I love it!
Rakuten Insight Surveys is a survey website that pays you to complete surveys. You can earn money by completing surveys on your phone or computer, and there are plenty of them available! I started this survey side gig few months ago around Nov 2023. There are a couple of surveys every few days after you have created your profile.
I've been using Rakuten Insight Survey for a few months now, and I love it!
It's easy to use and I have never had any problems with it. You can set up your account in just a few minutes, and then they send you surveys through email that you answer within 24 hours (or they will send you another one). The surveys take only 5-10 minutes of your time, but do they pay well?
About Rakuten Insight Surveys – How much I have earned?
I started this side gig around Nov 2023, hence it has been around 3 months. There are a couple of surveys every few days. How much I have earned? You can see the screenshots below – total $35 for 3 months. I have been changing the points for eCapitaVoucher (S$5 with 75 points). For each survey that you do, you will get between 1 to 25 points. Of couse you can exchange it with groceries/grab vouchers if you like. I use eCapitaVoucher because I can simply add it to my Capitastar App with 1 year expiry. I like to keep things simple 🙂
Worth it? Yes! I think so, the efforts are minimal and extra money why not? I always do these surveys leisurely when I am free. Some money from minimal efforts!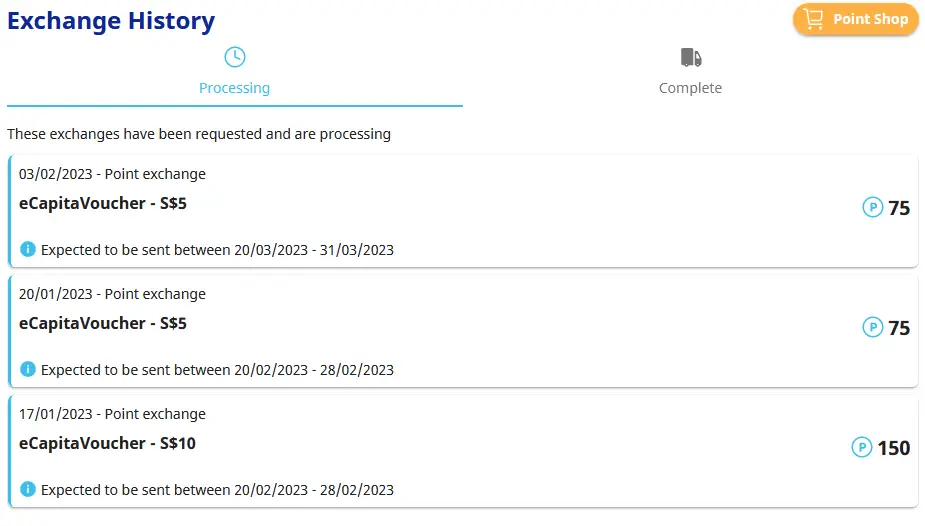 A Few Things You Should Know Before You Get Started
Before you get started, there are a few things you should know:
You need to be 18 years old to participate in this survey.
You will need a Rakuten account (if you don't already have one) and an internet connection. If you don't have a smartphone, no worries! The surveys can be completed on the desktop version of Rakuten Insight Surveys as well.
The surveys are conducted via text message or email depending on which option is available for each survey. You'll receive instructions about how much time is required for each survey after logging into your account.
Conclusion
I love Rakuten Insight Surveys! It's a great way to earn extra money on the side, and it only takes about 10 minutes per day. I highly recommend this app if you're looking for something new or just want to make some extra cash every month.
Do sign up Rakuten Insight Surveys if you are keen to earn some money on the side! It's not tremendous amount of money, but in this world with high inflation, every small money helps!