For those who have been regular readers of my articles, I have been sharing about good deals that I am enjoying or have enjoyed before. In the past few months, there are two main nice promotions which I have signed up and enjoyed the promotion for. In this article, I will share more and provide further updates on the new deals for this month!
Momoo SG– I have shared about the May promotion in this article. However, there are new deals coming up for Jun 2023 now. It's much more attractive than the previous month! Let me share more in this article.
New Enchanced Promotion Offers from Moomoo SG in Jun 2023
Nowadays, everyone understand that people are busy with work and other stuff, thus may not have time to read long articles. Hence, a picture speaks thousand words! Below are the promotion for the month of Jun 2023!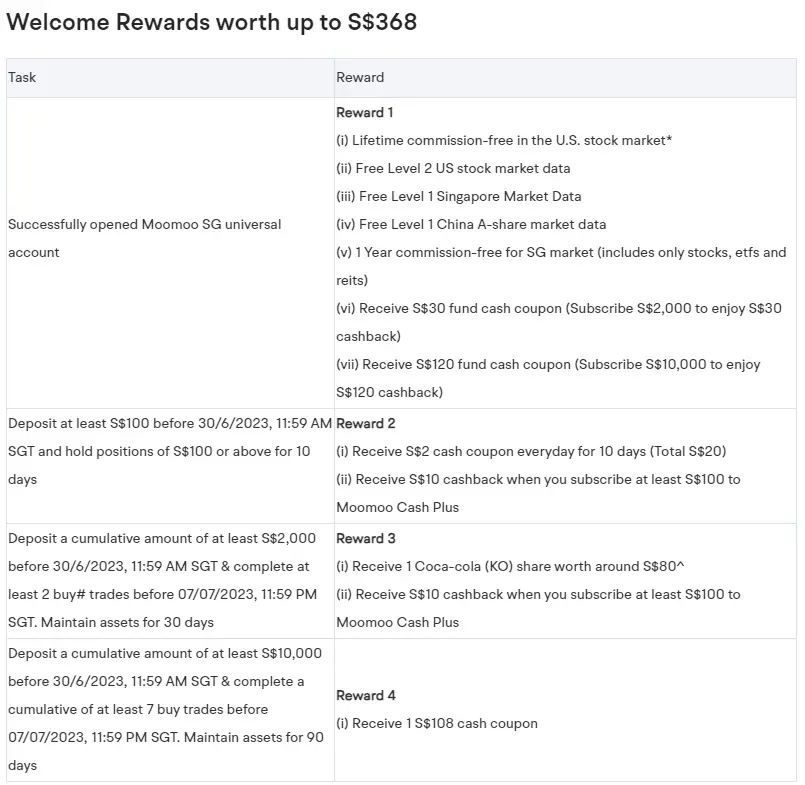 If you read the above carefully, there are total 4 tier of awards.
For the most basic tier 1, by simply opening the account with some fund subscription, you will get S$150* fund cash coupons! There are other benefits too!
Lifetime commission-free* in the U.S. stock market
Free Level 2 US stock market data
Free Level 1 Singapore Market Data
Free Level 1 China A-share market data
1 Year commission-free* for SG market (includes only stocks, etfs and reits)
If you want to go further to get Reward 2, 3 and 4, you can fund your account with some cash, do some buy trade and enjoy free money and stocks!
Of course, people are afraid of any hidden terms & conditions. You can read the full terms and conditions via Moomoo Website directly. Additionally, you can read this article that I have written about Moomoo SG earlier for further analysis.
For those who are keen to get the free money and an excellent brokerage, simply click the link below to
Register an account with Moomoo SG!
Very important:
Please note that the campaign will commence from 1 June 2023 at 12:00 PM SGT and end on 30 June 2023 at 11:59 AM SGT ("Campaign Period"). Hence, don't wait till the last minute! Register an account with Moomoo SG now!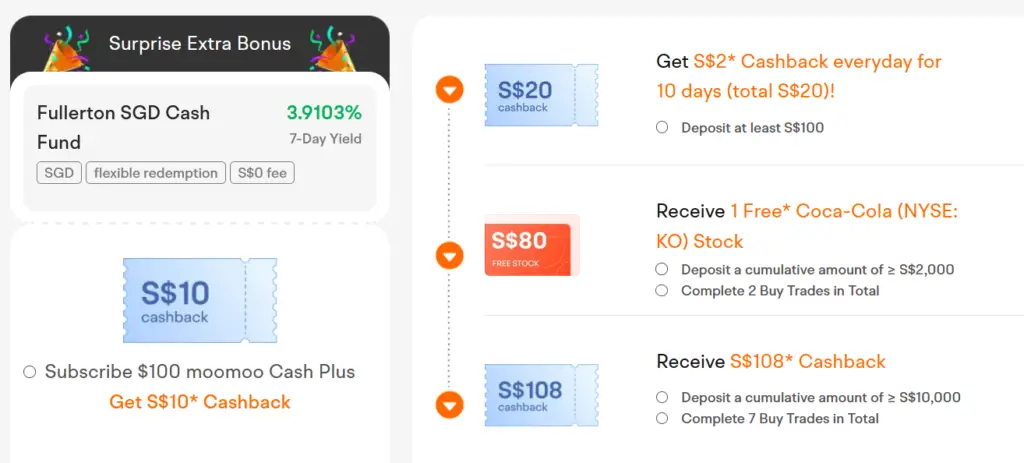 *T&Cs apply. Platform & other fees apply.
All views expressed in the article are the independent opinions of Careyourpresent. Neither Moomoo Singapore or its affiliates shall be liable for the content of the information provided. This article has not been reviewed by the Monetary Authority of Singapore.